Let's start from Kansai Airport
So you're decided! Flights to Osaka are easy to find. There are two airports in Osaka, international flights arrive at Kansai airport (関西空港 Kansai kûkô). It is located on an artificial island and planes land on the sea. The buildings in the shape of a plane wing are designed by Renzo Piano, the architect of Beaubourg in Paris.
Other possibilities (french only)
Kansai Airport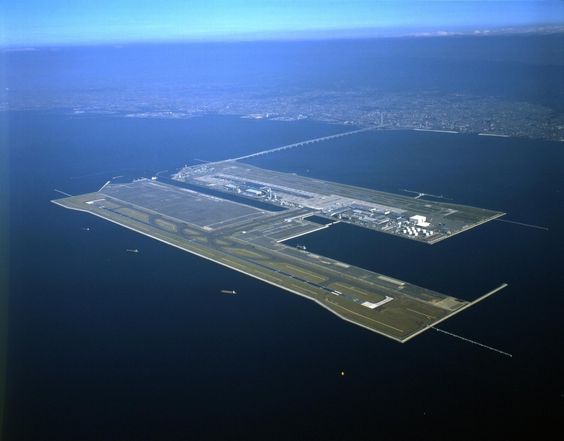 Where to stay close to Kansai Airport if you are stucked? The closest is Izumisano, then Kaizuka, Sakai.
Kansai airport neighbourhood railmap (french)
Book on Japanican: find Kansai airport et look at the map, some hotels are not so near. You have to be near Izumisano ou Hineno stations.
Book on Booking.com: type Kansai airport or Izumisano and look at the map, some hotels are not so near. You have to be near Izumisano ou Hineno stations.
- Bellevue Garden Hotel (former Ramada, years ago Holiday Inn) in Izumisano (single 8400¥, good hotel, airport shuttle included)
- Seagull in Iharanosato (business hotel, affordable rates, airport shuttle included, shopping center right next to eat cheap, but only local trains), 6000¥
- Airport Inn Prince Hotel: basic japanese business hotel, near Izumisano station, 5000¥
- 2 onsen hotels: Kansai Airport Spa Hotel Garden Palace, 8400¥, shuttle from Izumisano or Rinkutown stations; Inunakiyama Grand Hotel (in the hills, very nice surroundings, a little far for morning planes).
- Lodge in Iharanosato not recommended for girls, Owner very insistent to dress caucasian girls in kimonos to take pictures. For stone broke boys.
There are also de luxe hotels at (or near) the airport (Nikko in the airport, single 9500¥ Internet booking, localy 21000¥) , ANA in Rinkutown (from 8550¥ single), Washington in Rinkutown (8400¥ single).
If you have a JR Rail Pass Kanku Hineno in Hineno (7800¥ single).
To join the temple number 1, there are 4 possibilities:
1.

It is possible to go to the temple number 1 with the train
, but it needs 5 hours, 12230 yens and 4 changes in Shin-Osaka, Okayama, Takamatsu and Itano. The station close to the temple is called Bando 板東.
2. You can take a Nankai train to Wakayama, then the Nankai ferry for Tokushima port then a bus for Tokushima 4 hours, 2890¥ (+ 200¥ bus). The cheapest.

3.

A direct bus for Naruto or Tokushima

.
The easiest.
There are several companies.
4500 yens, 2h45
. You can buy the ticket at the "Tourist information center"
"i"
. With the ticket you can take the bus at bus stop number 2, completely on the left of the building, outside the arrival level. In Naruto or Tokushima, take the train for Bando 板東. From Tokushima, direct line JR Kotouku, Takamatsu 高松 direction. 5 stations per slow train (10 minutes). From Naruto change at Ikenotani(see below).
Bus stops
Bus for Tokushima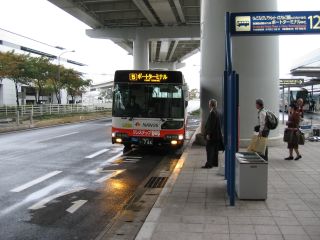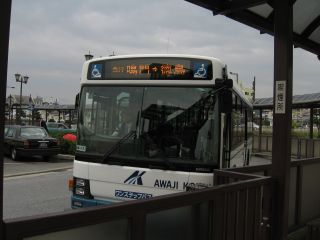 4.
Take the train to Kobe Sannomiya 三宮 or Maiko
舞, then the bus to Tokushima
.
Take a JR train at the station, bound for Osaka (Umeda), at airport 2nd floor exit.
If you have a Kansai Thru Pass, take a
Nankai train
(in front of JR) for
Namba
, then a Hanshin namba line for Sannomiya.
To Maiko go to
Amagasaki
where you change for a
Hanshin train
to
Maiko Kouen
舞子公園 (same station than Maiko JR).

In Sannomiya 三ノ宮 (Kobe)
Follow San no miya bus terminal 三ノ宮 バス ターミナル signs, at the foot of MINT building, the bus for "Shikoku direction" Shikoku houmen 四国方面 starts from bus stop number 6.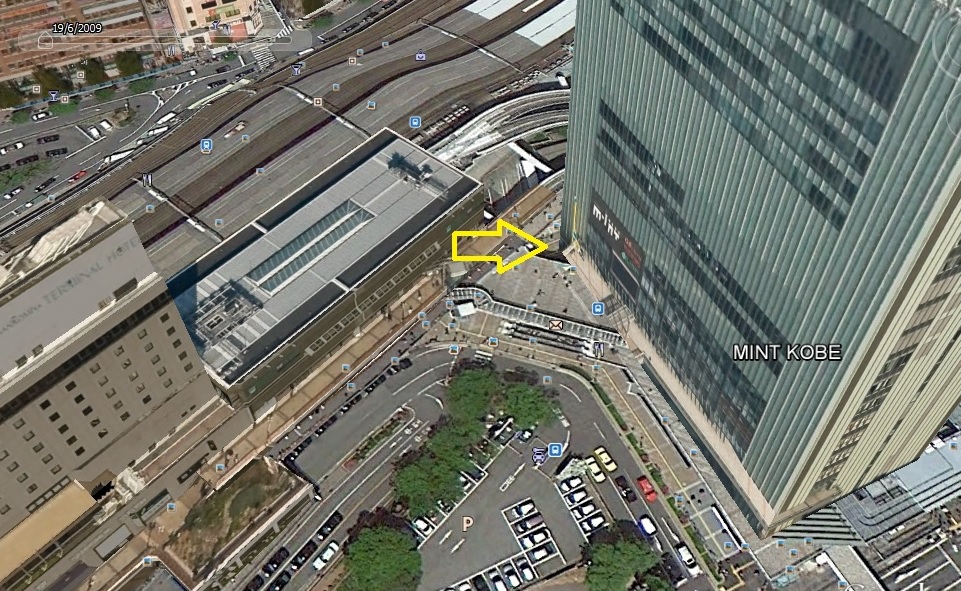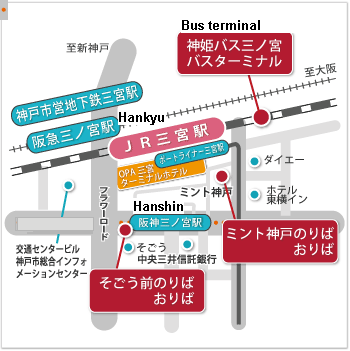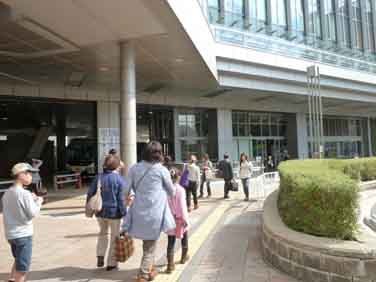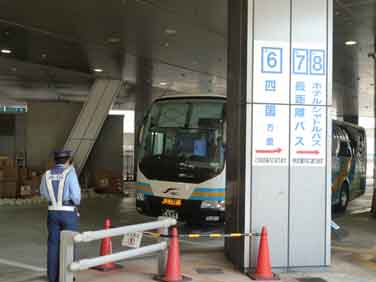 The train for Sannomiya (Kobe) or
Maiko
is the best choice if you start from
OSAKA City
(1h 780¥)
KYOTO
(1h24 1530¥) (1h 3980¥ / Shinkansen)
(Kyoto, Osaka, Kobe, Maikokouen are included in Kansai thru pass)
NAGOYA Central airport
(2h36 9140¥)
TOKYO
(3h27 14960¥ / Shinkansen)
NARITA Tokyo airport
(4h32 16950¥)
Transfer in Maiko (pdf)
Bus schedule Maiko (read from Kousoku Maiko 高速舞子 to Tokushima Eki mae 徳島駅前)
Kobe -Tokushima route
In Maiko 舞子,
take the motorway bus (2900 yens)
at the top of the Maiko terminal (leaving on the bridge, not in the tunnel, Japanese drive left!), Tokushima direction, stop in Naruto Eki 鳴門駅前 where you take the train to Bando (with one connection in Ikenotani 池ノ谷)or better stop in Tokushima 徳島. From Tokushima, direct line JR Kotouku, Takamatsu 高松 direction. 5 stations per slow train (12 minutes).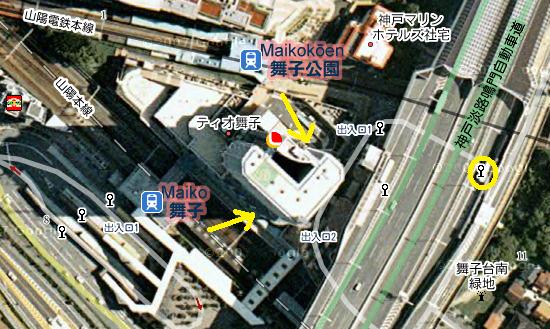 5th floor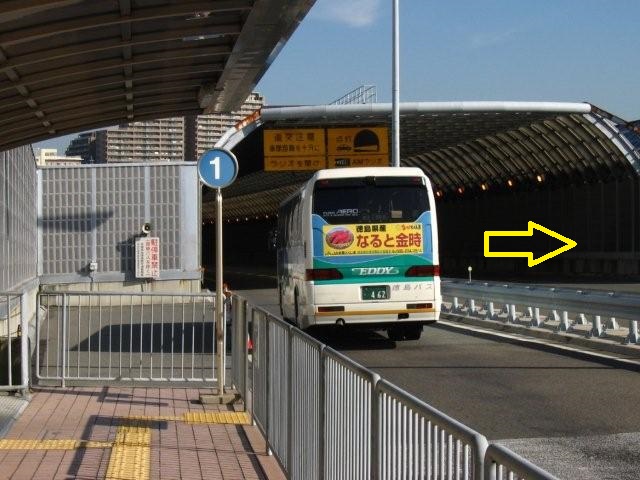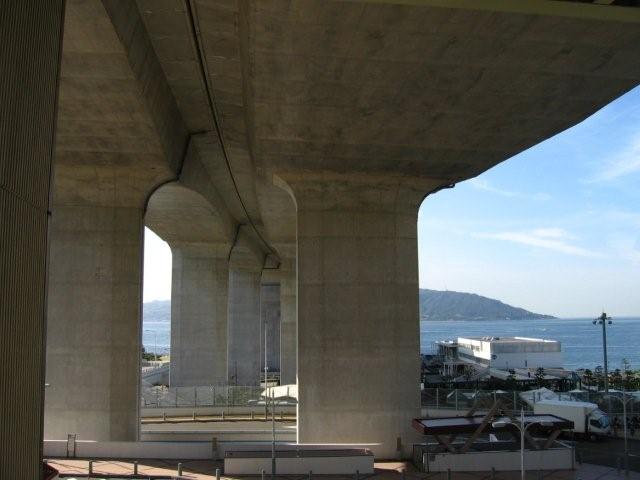 1st floor
The bus crosses the bridge between Awaji and Shikoku, where you can see the Naruto maelstroms.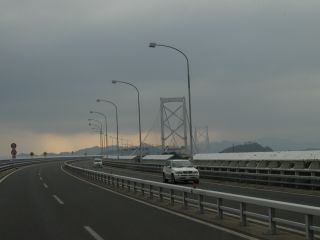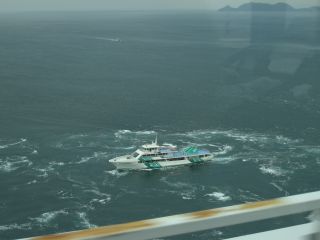 In Naruto, you can sleep at Sanukiya Ryokan. Internet booking is possible (Japanese Inn), 20 mn walking from 高速鳴門 Kousoku Naruto motorway bus stop. Japanese Inn
In Tokushima, about 50 hotels near the station, that you can find on your "Shikoku 88 Route Guide", beetween temples 17 and 18, or on the maps 四 国 遍路 ひとり 歩き 同行 二人. You can book before departure, but not the cheapest: Japan Travel Bureau
If you don't speak Japanese, take the bus bound for Tokushima at the airport. The Tokushima terminal is in front of Sunroute Hotel, that you can book on the web or locally for 6800 ¥, big western style room, 11th floor o-furo included, computer and Internet in each room, where you can plan out your trip after 2 days of plane and trains, and a 7-8 hours jetlag.
In front of the station, all shops and restaurants, Clement Plaza Post ATM (4th floor) and Post office ATM.
In the Meiten-gai building, on the left here under, facing Sogo departement store.
(Caution, old address in "88 route guide" 2007 edition. OK in 2009 edition)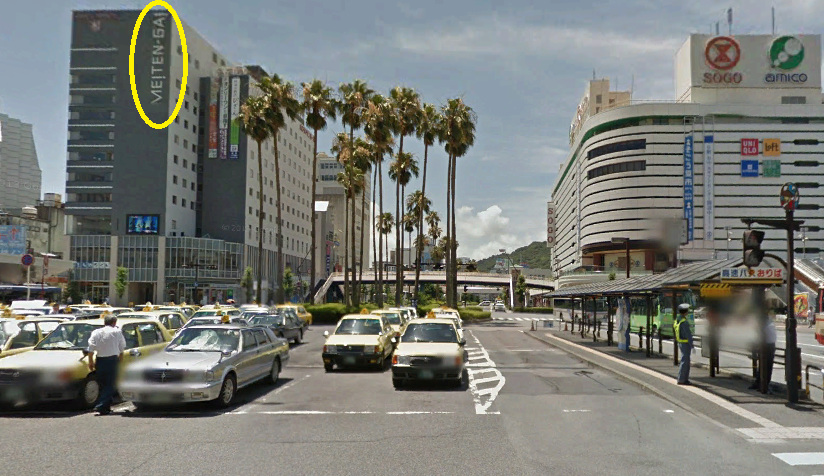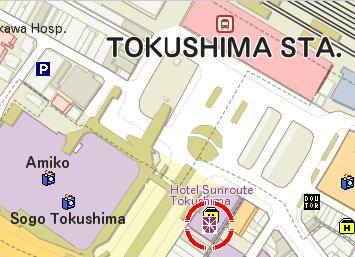 Or you can take the train to Temple number 1 Ryozenji 霊山寺:

From Tokushima, take a local train on JR Kotouku line, direction Takamatsu 高松. 5 stations (10 minutes).

From

Naruto

t

ake the train JR Naruto Line for Tokushima 徳島. 12 minutes later, change in Ikenotani 池ノ谷, to take the JR Koutoku Line, Takamatsu 高松 direction. Stop at the first station, 2 minutes later, Bando 板東.

Accomodations in Bando: minshukus and temple number 2, on your "Shikoku 88 Route Guide".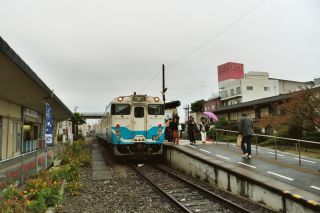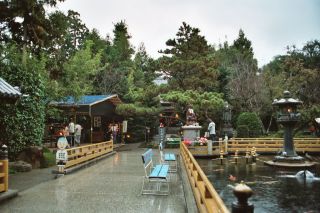 Here is the number 1 temple (ichiban 一番) Ryouzenji 霊山寺, where you start the pilgrimage, and where you can buy the Pilgrim kit