一 番から 十七番まで
First loop, from 1st to 17th temple
At the beginning, the henro path is a 100 km loop from Naruto to Tokushima, thus allowing the pilgrim to become harden to walking and tiredness before the long distances. It allows also a one week hiking to people who have not much time or are afraid to walk too long and want to experience the pilgrimage, or only want to visit a beautiful and out of time part of Japan.


This loop leads easy in one week from temple number 1 to temple number 17, whith 14 km a day stages. It is also possible to vist in one week the 23 temples of Tokushima-ken, that is 165 km and 23,5 km a day. It's a classic way to walk the pilgrimage, ikkoku-mairi (one land each time).

We will look at this loop, to help those beginning the pilgrimage without to speak japanese. One week later they will get accustomed to signs, posts, accomodation's booking...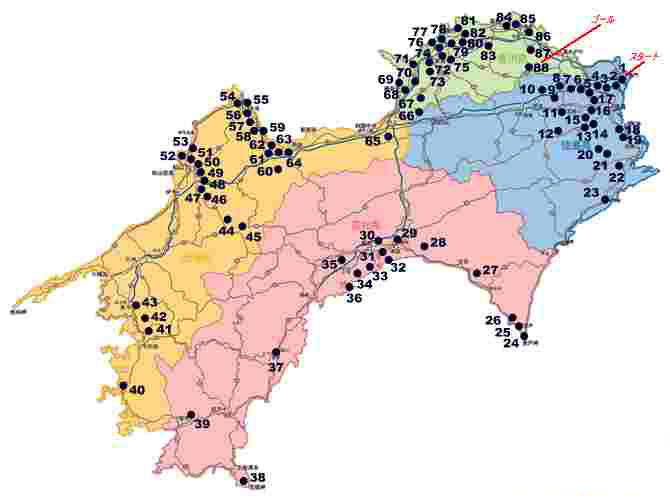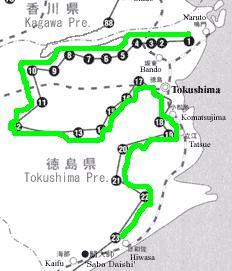 Henro has 4 stages, following the 4 lands of Shikoku (shi = 4, koku = land).


Old province
Prefecture "ken"
Henro

Dôjô

Awa 阿波
Tokushima-ken
Awakening
発心 の 道場
Hosshin no dôjô
Tosa 土佐
Kouchi-ken
Asceticism, discipline
修行 の 道場
Shûgyô no dôjô
Iyo 伊予
Ehime-ken
Illumination
菩提 の 道場
Bodai no dôjô
Sanuki 讃岐
Kagawa-ken
Nirvana
涅槃 の 道場
Nehan no dôjô
In Awa (Tokushima-ken), distances between the temples are short, landscapes are varied, an important part is walked on paths and in the forest, unlike Tosa (Kochi-ken), much harder, were you will walk under the sun during 360 km along the asphalt of the main road, and very long distances between the temples.

Marking

No problem at the beginning, all is well marked until the 12th temple. Later, you'll sometimes have to look at stone posts at the intersections. Read the number or the name of the next temple and follow the direction of the hand.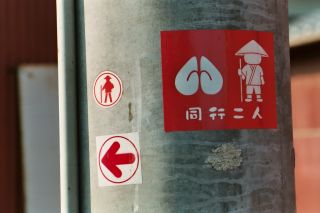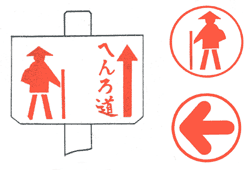 へんろ道 = henro michi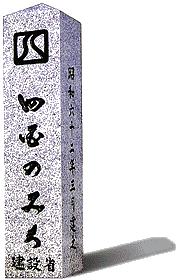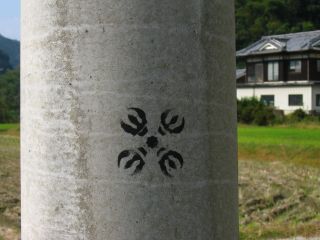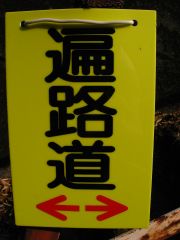 The first temples

Number
Name

Km

from previous
Comments
1
Ryōzenji (霊山寺)
0
The temple where you can buy your equipment (voir Equipment)

Shukubou
2
Gokurakuji (極楽寺)
1,2
Shukubou
3
Konsenji (金泉寺)
2,5


4
Dainichiji (大日寺)祝日
4,9
5
Jizōji
(地蔵寺)
2
6
Anrakuji (安楽寺)
5,3

Recommended shukubou

,
usual first stage, good reception, evening ceremony well adapted to beginners
7
Jūrakuji (十楽寺)
1
Shukubou
8
Kumataniji (熊谷寺)
4,2
Bear valley temple
9
Hōrinji
(法輪寺)
2,4
10
Kirihataji (切幡寺)
3,8
Minshuku Sakamotoya downhill before temple 10
11
Fujiidera (藤井寺)
9,8
Bridge on the river

Fujiya ryokan ふじや旅館, closed 1 day a week,
business hotels in the next town (Kagojima 鴨島)
12
Shōzanji (焼山寺)
13

Difficult (slippery ground) if the weather is bad , 1600 m difference in altitude in a muddy forest, but splendid.



Shukubou almost closed.
13
Dainichiji (大日寺)
22
Down in the forest, river (ryokans), then walking along the road

Shukubou

Special henro rooms at Kadoya ryokan かどや nearby
14
Jōrakuji (常楽寺)
2,3
15
Kokubunji (国分寺)
0,8
16
Kan'onji (観音寺)
1,7
17
Idoji
(井戸寺)
2,9
The shukubou is now closed
Ville
Tokushima
300.000 inhabitants town, station, airport, boat to Wakayama (Nankai ferry) (to go to Koyasan), all stores and hôtels

At the foot of the ropeway, the famous dances of Awa: Awaodori-kaikan 3 times a day